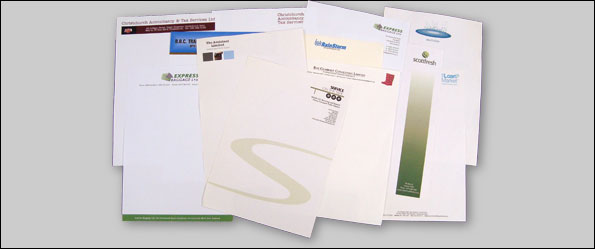 Letterheads
Our Letterheads are printed on Woodfree Offset, which is a nice smooth paper, a little heavier than ordinary copier paper (which is 80gsm).
Printed in Full Colour
Printed One Side
100gsm White Paper
Minimum Quantity: 100
Please Note: Although it's usually not a problem,
we can not guarantee that our digitally printed letterheads are safe to be put through your office laser printer.
This is due to the fact that digital printing uses similar technogoly (toner being fused to the paper) as your laser printer — if the fuser in your printer is hotter than ours, it may melt some of the toner we print onto your letterheads. This can result in a ghost image being repeated once or twice.
Printing on your inkjet printer is fine.
To order: click on a price below to email us an order for that option
Letterheads Prices
Qty
100
250
500
1000
2000
75
141
247
438
636
Click on a price to email us an order for that option.
Please Note: Prices Exclude GST
What else would you like to know?
Email us with your questions
re Letterheads
Compare all
Stationery products