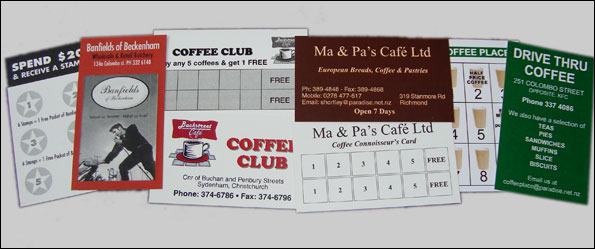 Loyalty Cards
Having your own business or franchise can be stressful. Is today going to be as good as yesterday? Or is tomorrow going to be as bad as today? Wouldn't it be great to have regular customers — to be assured of a regular income stream? We can help you make every day a great day!
With a loyalty card, repeat custom is almost guaranteed. Especially when you offer your customers an incentive: your customers will love a free muffin with their 6th latte. Or a free hot chocolate for her boyfriend when she comes in for her 10th cuppa.
Like you, we like regular customers too. So we would like to offer you an incentive: order your loyalty cards every 6 months and we will give you a 20% discount! With every order we will give you a new discount voucher which is valid for 6 months from the date of invoice.
Your loyalty cards will be printed on sturdy 350gsm card, in full colour on the front and black on the reverse.
We are renowned for our fast, friendly, personal service. Let us take the hassle and frustration out of your ordering. All you need to do is give us a call on
03 365-4516
to re-order and you will have your loyalty cards the same day, or next day at the latest — with a new discount voucher. Can't come in to pick them up? We will courier them out to you, free of charge! Or (if you're in Christchurch) I'll personally drop them off after work and enjoy a hot chocolate - I may even bring my girlfriend and treat her to a cappuccino :)
Loyalty Cards Prices
Qty
100
71.20
83.20
95.20
53.60
61.60
250
111.20
123.20
135.20
77.60
85.60
500
143.20
155.20
167.20
101.60
117.60
750
151.20
171.20
191.20
109.60
125.60
1000
159.20
179.20
199.20
117.60
133.60
1500
199.20
219.20
239.20
149.60
173.60
2000
223.20
243.20
263.20
173.60
197.60
2500
279.20
307.20
335.20
213.60
245.60
3000
319.20
347.20
375.20
237.60
269.60
What else would you like to know?
Email us with your questions
re Loyalty Cards
Compare all
Specials products