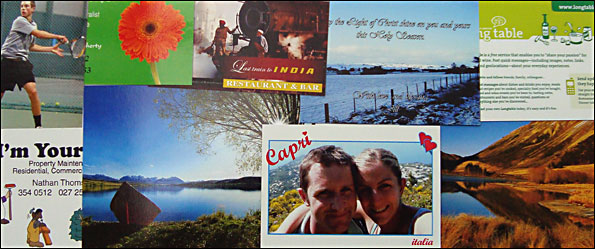 Postcards
Keep in touch with your customers with our postcards.
And if you supply us with a database of your client address details, for an extra charge we can automatically print those details onto your postcards! (This is called "Variable Data Printing" - or VDP). No need for you to print out address labels and sticking them on the postcards — or worse, write each individual postcard yourself!
VDP also allows us to use your client details to create personalised postcards (i.e. have each customer's name with a personalised message appear on the postcard). The possibilities are limitless.
Call us for details.
Printed Full Colour Front and Black Back
300gsm Coated Stock
Size: 145 x 100 mm (landscape or portrait)
Minimum Quantity: 100
Postcards Prices
Qty
100
250
500
1000
2000
68
85
142
211
338
What else would you like to know?
Email us with your questions
re Postcards
Compare all
Promotional Printed Material products